Winter Storage
Keep Your Golf Cart in Top-Notch Condition
TURN TO US FOR GOLF CART STORAGE IN PLAISTOW, NEW HAMPSHIRE
Need a place to store your golf cart during the off-season? Golf-Rides in Plaistow, NH can help. We also offer golf cart layaway services.
Unlike other companies offering Winter storage, we include the tuneup/service in our price! As we have done for years, the service done over the winter on your cart is included in the price you pay! Unlike many other companies, we keep your cart charged up throughout the winter months to help maintain optimal battery health.
We can store and maintain your golf cart during winter to keep it in perfect condition. Our golf cart storage facility will keep your golf cart safe and will help extend the life of your cart. We'll do service maintenance to keep your cart in full running condition. We'll let you know what repairs we recommend and will work together to decide if you would like for us to move forward with those. We will also perform any of your previous requests while your cart is in storage.
Fill out our online form today to secure your spot in our storage facility. You can also print out the online form and mail it to us with a check.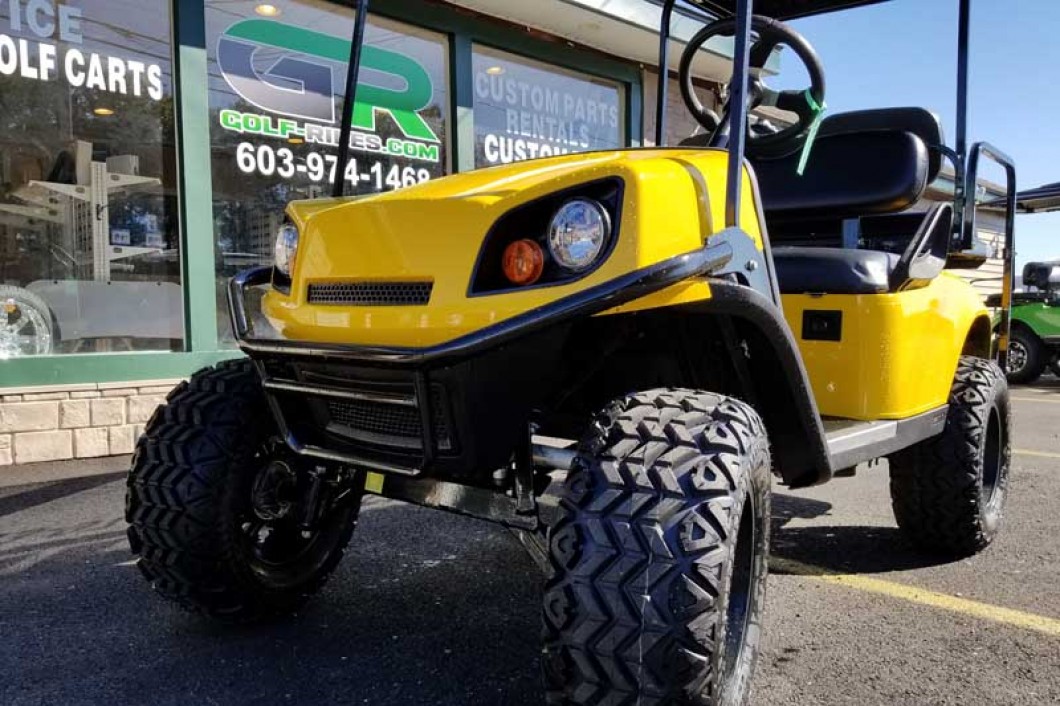 Check out our golf cart storage prices: UPDATED FOR THE 2020/2021 WINTER
Choose Golf-Rides when you need golf cart storage services in Plaistow, NH. Nobody else offers better service for the same low price. We offer reduced labor costs during winter storage time for upgrades. This can help extend its life and ensure that it will serve you for years to come.
Storing a two- to four-passenger golf cart for the winter costs just $250. Storing a six-passenger golf cart costs $290. We offer a secure environment for the winter.
The above pricing is for the following campgrounds/associations:
Summer Village
Westward Shores
Pine Acres
Tuxbury Pond
Hidden Valley
Exeter Elms
Cedar Waters
Little Neck
Wingaersheek Beach
Millbrook RV
Due to land restrictions we will no longer be picking from campgrounds in Maine for winter storage. We will however, allow carts to be dropped off and picked up in the Spring at a discounted rate. Please contact us with any questions.
If your location is not on the above list, please call for pricing!
We have added another easy way to pay for your winter storage! Below the online form are buttons to pay with your credit card! (A fee is added if this option is chosen).
If paying by check please mail check to:
Golf Rides
105C Plaistow Rd.
Plaistow, NH 03865