Winter Storage
Keep Your Golf Cart in Top-Notch Condition
TURN TO US FOR GOLF CART STORAGE IN PLAISTOW, NEW HAMPSHIRE
Need a place to store your golf cart during the off-season? Golf-Rides in Plaistow, NH can help.
Unlike other companies offering Winter storage, we include the tune-up/service in our price! As we have done for years, the service done over the winter on your cart is included in the price you pay! Unlike many other companies, we keep your cart charged up throughout the winter months to help maintain optimal battery health.
We can store and maintain your golf cart during winter to keep it in perfect condition. Our golf cart storage facility will keep your golf cart safe and will help extend the life of your cart. We'll do service maintenance to keep your cart in full running condition. We'll let you know what repairs we recommend and will work together to decide if you would like for us to move forward with those. We will also perform any of your previous requests while your cart is in storage.
Fill out our online form today to secure your spot in our storage facility. You can also print out the online form and mail it to us with a check.
F.A.Q.
Q: What does the Winter Storage Fee entail?
A: After paying the Winter Storage Fee, we come to your house or campground on or around the pick up date. You keep the keys, charger and personal belongings from your cart. We take the cart back to our lot and we water the batteries and do a quick once over to prepare the cart to be stored. The cart is stored on our lot in a secure area on constant video monitoring. The carts are charged every 3-4 weeks (Depending on temperature). We bring the carts in for a service (included in the price) where the battery cables are inspected (replaced if needed), joints greased and cart fully inspected. Any work requested is done at this time at a discounted rate! In the Spring, the cart is washed and delivered back to your camp site or house ready to go for a fun filled summer!
Q: Why do you not recommend covering our cart during the winter?
A: Every year we have customer's requesting we cover their cart during the winter. We STRONGLY recommend that they do not cover your cart during the winter. This is for 2 main reasons:
#1 - RODENTS! Mice L-O-V-E to crawl into covered golf carts and make nests and chew wires during the winter. This happens every year. Carts are made to be outside in the elements!
#2 - ICE! When the carts get covered in the winter, they gather condensation build up which will freeze into ice. With the wind, this acts as tiny razor blades on your body as the cover blows around.
Q: We are on a campground in Maine and have stored with you before, why have you stopped Maine pickup's for Winter Storage?
A: We have restrictions on the amount of carts we can have on our lot here in Plaistow. While we wish we had unlimited space to store carts, we do not. We WILL however allow drop off of any carts from Maine campgrounds to our lot for a discounted price. This will be limited to a first come, first served.
Q: The fees went up for the 2022-2023 season. Why is that?
A: Due to the increasing fuel costs and the cost for us to store the carts, all campgrounds and drop off winter storage services have been increased. Our services did not change!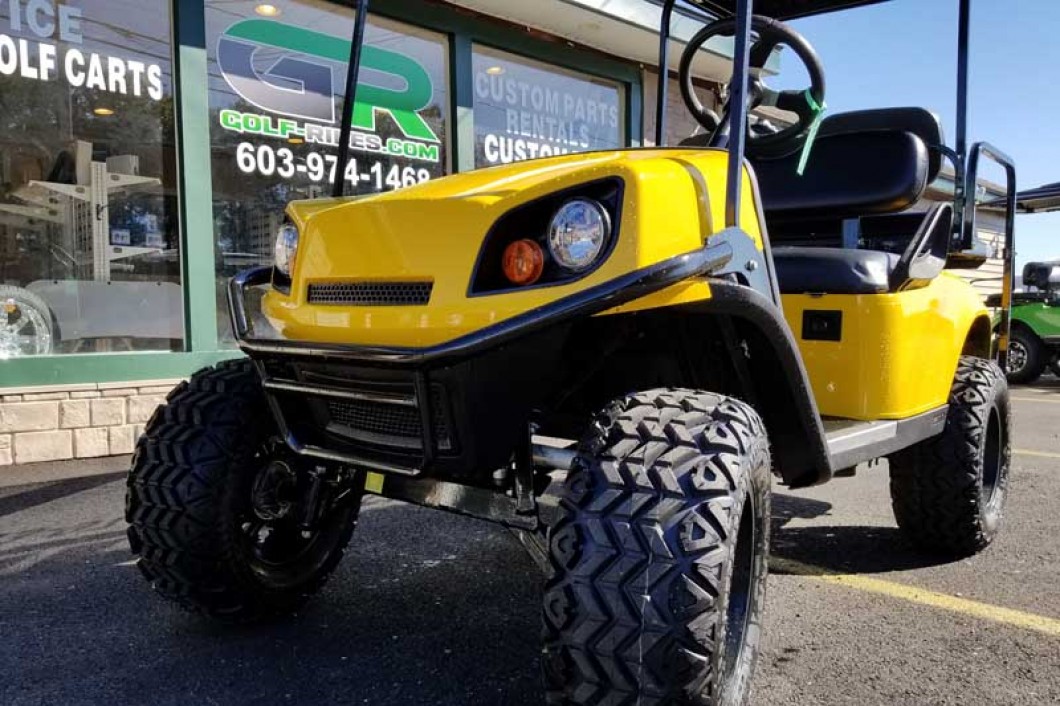 UPDATED FOR THE 2022/2023 WINTER
We are unfortunately not providing pickup for many of the previous campgrounds we have in the past. Due to land restrictions and difficulty working with some campground management, we cannot offer pickup. We will accept drop off and pickup for a discounted rate of $230.
Choose Golf-Rides when you need golf cart storage services in Plaistow, NH. Nobody else offers better service for the same low price. We offer reduced labor costs during winter storage time for upgrades. This can help extend its life and ensure that it will serve you for years to come.
Storing a two- to four-passenger golf cart for the winter costs $300 (for all listed campgrounds). Storing a six-passenger golf cart costs $350 (for all listed campgrounds). We offer a secure environment for the winter.
The above is for the following campgrounds/associations:
Summer Village
Pine Acres
Tuxbury Pond
Little Neck, Ipswich MA
Storing a two- to four-passenger golf cart for the winter costs $350 (for Westward Shores Campground). Storing a six-passenger golf cart costs $380 (for Westward Shores campground)
We have added another easy way to pay for your winter storage! Below the online form are buttons to pay with your credit card! (A fee is added if this option is chosen).
If paying by check please mail check to:
Golf Rides
105 Plaistow Rd.
Plaistow, NH 03865
DISCLAIMER: We cannot pick up your cart until storage fee is paid in full. All personal items need to be removed from the cart prior to pick up. We will not be responsible for missing or lost items not removed from the cart.
***MUST FILL OUT FORM BELOW AND SUBMIT THEN SELECT CAMPGROUND TO USE PAYMENT BUTTON***